Sareltech flying the flag for BST Group at SOMA Open House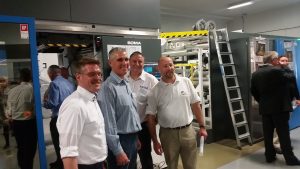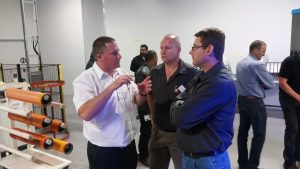 A selected group from the printing and packaging industry was invited to the SOMA Future of flexo Conference & Open House that took place on Wednesday, 31 May 2017.
The day started at the fabulous Nitida Wine Farm; where the conference was not only all about presentations. However each representative's presentation was linked to the Live Demo that took place later the afternoon at Cibapac. Situated in Cape Town, South Africa, Cibapac is the owner of the new Soma Optimal Machine which was the main attraction at the open house.
Sarel spoke on behalf of BST Group. Presenting current trends, interesting case studies that he experienced with customers and smart solutions for printers in collaboration with the very popular IPQ Center.
Elaborating on Web Guiding, Spectral Color Measurement, Workflow Solutions and the 100% Print Inspection which make up the four branches of the IPQ Center. He underlined the importance of maximal service and optimal results for each client and the individual need of the consumer with the use of the IPQ Center components.
The conference was closely followed by the Open House where attendees had the opportunity to witness each topic in action. On show for BST Group was the well-known SHS 4000. A test print was demonstrated while one of the SOMA technicians' explained each step of the process.
With all of these high-end quality brands working together as a collective unit, the future for the printing and packaging industry looks bright with BST Group being one of the front runners.