CI Press Installation and Commissioning done by Sareltech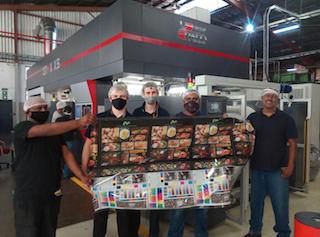 The Sareltech team is busy Installing & Commissioning their first CI Press by themselves with remote assistance from Uteco Italy.
Due to Covid 19 travel restrictions in SA and Italy we had to come to the party for our customer who bought this press recently and together we made it work. The picture shows the first 8 colour print test at 300m/min and some happy technicians and operators.
Also to our customer in Durban, many happy print miles on this awesome Uteco Onyx XS press.