UTECO : Agents' Meeting 2018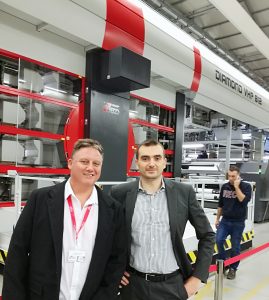 Sarel attended the yearly Uteco Agents Meeting that took place during the week of 16-18 January. Three days full of topics, highlights and innovations for this 2018 that from its beginning is proving to be a strategical and very important year.
During the meeting, in addition to technical in-depth analysis exploitation of the sales strategies of consolidated products, live demonstrations took place.
on  NXS 300,  the super compact rotogravure, perfect for short runs in flexible packaging.
on MISTRAL MV, developed for matt varnishing and solventless laminating.
on RAINBOW 4.0, the solventless laminating machine, ideal for both small and long runs, thanks to belt tension control systems, that allows the use of all the materials.
on GAIA, the inkjet EB  digital printing press: flexible and easy to use, designed with the customer's thinking, creativity and personalization research.
During the meeting some external speakers  intervened, representing Companies with which Uteco has established consolidated technological partnerships such as: ebeam, Kodak, Rofin, Sunschemical and BP Agnati with which a partnership starting in the next future for the Pre-Printing, finally citing the precious testimony of a well-known italian Converter that has long been a User of the wide "Uteco Machine Park".
Great motivation and engaging enthusiasm,  ambitions projects but with awareness given by the 2017 results of about € 140 million of orders, we will be  able to reach together the 2018 target:  150/160 million!