Fraser introduces powerful product at K2019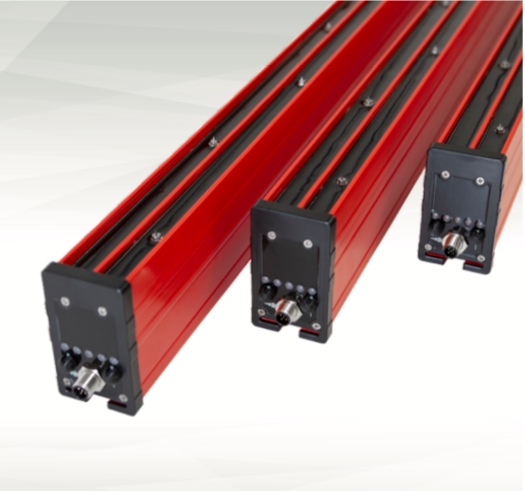 Offering market-leading performance, the intelligent XIFOS 33 delivers 33 kV of pulsed-DC ionising power with built-in field polarity sensing and adaptive ionisation output to neutralise the actual charge on a material for optimal results. The ionisation distance and intelligence settings are easy to adjust locally, without the use of any tools, through an intuitive on-bar interface. This makes installation straightforward and avoids the need for any additional remote programming or control equipment.
The status of the bar can be monitored easily by viewing the 5 green/red on-board LEDs. Additionally, the XIFOS 33 is compatible with IEC 61131-2 Type 1, 2 and 3 PLC inputs. Connectivity is via a standard 5-pin M12 connector, enabling customers to monitor its performance in any environment.
Backwards compatible with Fraser's NEOS 30 static eliminator, the XIFOS 33 is available in lengths of 600mm, 750mm, and then in steps of 250mm to a maximum length of 6,000mm, with active ionisation along the full length of the bar. Configured to neutralise charges at a range of 250mm to 1,500mm, the power of the XIFOS 33 makes it ideally suited to OEMs and end users with large winders, including slitters/rewinders, cast and blown film extruders, and laminators.
Bruce Clothier, CEO of Fraser, commented: "Having pioneered the use of 24V DC technology in static elimination for over a decade, our R&D engineering team wanted to build on the knowledge gained from our highly successful Jupiter and NEOS 30 bars. The XIFOS 33 has been rigorously designed from inception with reliability and scalability in mind to meet future customer requirements. By refining our software algorithms to enable a continually reactive and adaptive response to meet the specific charge on the material, we are delighted to be able to offer customers a means of delivering optimal static neutralisation to enhance the quality of their output on today's high-speed machinery.
"We are continuing to lead the way in 24V DC technology and the XIFOS 33 is a truly powerful addition to our already broad portfolio of static eliminators."